Garden Wear at Mid City Nursery
Working in the garden can be demanding, and having the right kind of protection from the sun or from thorns and prickly weeds is important. That's why we carry top quality gardening accessories to fit most needs. We carry the stylish and functional hats from Sunday Afternoons, gloves from LFS and West County Gardener, knee pads from Tommyco and Fiskars, and some really cool t-shirts from the EarthSunMoon company that will brighten your day as well as make you look good in the garden or wherever you may be. Below are highlights of some of the items we stock.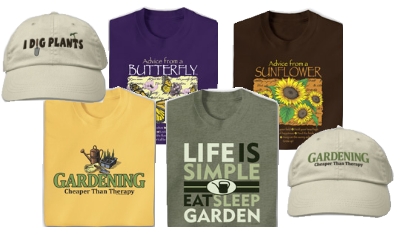 We are excited to carry some really cool garden t-shirts from the EarthSunMoon company. We have three different Advice From t-shirts (Advice from a Butterfly, Advice from a Lady Bug, Advice from a Sunflower) which are available in women's sizes and then three different t-shirts in uni-sex sizes (Gardening Cheaper Than Therapy, I Dig Plants, and Life is Simple Eat Sleep Garden). These shirts are well made and you'll often see our staff wearing them. You can buy them at the nursery or purchase them online by Clicking Here.
Hats from Sunday Afternoons®
Sunday Afternoons® Hats are known for their great quality and awesome sun protection. Not only do we carry the original Adventure and Sport hats, but we also stock the Highlander Hat, the Cruiser Hat, and the very cool Caribbean, Fiona, and Monterey Hats that most women will love. These hats provide a 50+ UPF sun protection rating and are great for any ocassion. To see more information about these hats, Click Here.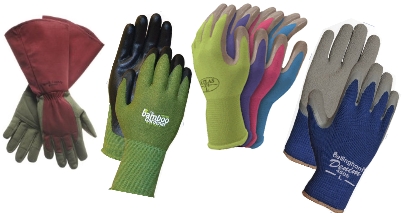 Garden Gloves

Every gardener needs a good pair of gloves and sometimes several good pairs of gloves. We love the West County Gardener Rose glove for times when you need to handle thorny roses or other poky plants. We also carry several styles of gloves that are manufactured by LFS glove company. One of our favorites is the Bamboo Gardener glove which has great dexterity as well as a protective nitrile coating on the palm for greater durability. We also love the original nitrile gloves that are light weight and make gardening a pleasure. To see more information or purchase some of our gloves online, Click Here.

Garden Knee Pads
If you your knees get sore from kneeling a lot in the garden, we have knee pads available from both Tommyco as well as Fiskars to help protect your knees from getting bruised from kneeling on rocky and uneven surfaces. Also, we have kneeling pads that give great protection to your knees and are easy to use if you prefer not to strap knee pads on. Some of the knee pads can also be purchased at our Online Store.