Garden Supplies at Mid City Nursery
Having the right equipment makes the job that much easier. We carry a nice selection of garden tools and supplies that will help you get the job done. We carry a wide range of pruners, tools, drip irrigation, garden hoses, and more for the casual to the avid gardener. Whether you want the Swiss made Felco pruners or a Fiskars powergear lopper or a heavy duty shovel or drain spade or trenching shovel or rake, we may have what you are looking for.
Felco tools are the top of the line Swiss made cutting tools. Once you use a pair of felco pruners, you will see why so many professionals use them. We carry many of the felco pruner models including the Felco 2, Felco 6, Felco 7, Felco 8, Felco 9(for lefties), and Felco 12 hand pruners. In addition, we carry the felco 600 hand saw as well as the 912 and 910 scabbards. We also stock most of the replacement parts like blades, springs, and nuts and bolts for the pruner models that we stock. To purchase online, Click Here.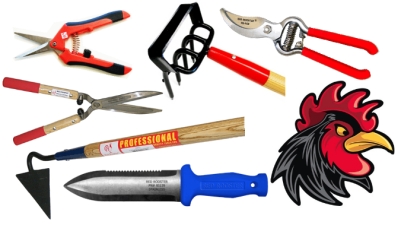 Red Rooster® Tools
Red Rooster tools are great tools and are made with the avid gardener in mind. These tools were made primarily for the agricultural and farming industry and now area available to the nursery industry. They are built to be used over and over again and perform well under various conditions. Some of our favorites are the Hulagan™ Weeder, the Red Rooster Planting Hoe, the Razor Snip® pruners, and the Hori-Hori Knife. In addition to these cool tools, we carry a wide variety of their other tools including shovels, hoes, hedge shears, and pruners. Look for the rooster!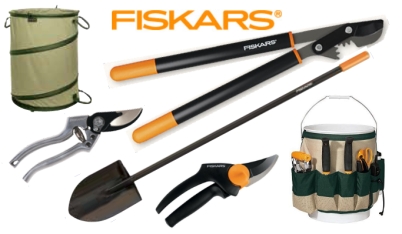 Fiskars® Tools

Fiskars® is well known for their cutting innovation. We especially like their PowerGear and PowerGear2 loppers. These loppers making cutting branches easy and almost effortless. In addition, we carry two of their hand pruners, the Ultra-Blade Pro Pruner and the PowerGear hand pruners which are well made and meant for continued use. Besides pruners and loppers, Fiskars has other great tools and garden gear. We love their shovel, which boasts an extra large foot platform and is made of welded steel construcion. The garden bucket caddy is also a very handy product, allowing you to turn any 5 gallon bucket into an easy way to keep your tools with you while doing yard clean up. Also, the kangaroo container is perfect for yard clean up and is available in a pop-up 10 gallon or 30 gallon size.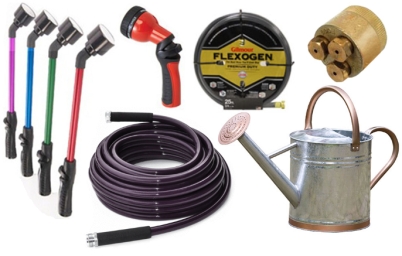 Watering Products
We know how important it is to have a reliable, high quality watering hose when watering. That's why we carry the Flexogen hoses in various sizes as well as the Water Right garden hoses that are built for a lifetime. We won't sell something that we wouldn't use. We also stock the Dramm water wands and water revolvers with the touch-n-flow and one-touch flow technology to make watering your plants easier and more enjoyable. Need a watering can? We have economical styles as well as stylish metal watering cans. In addition, we carry a variety of other Gilmour and Fogg-it products to meet your watering needs.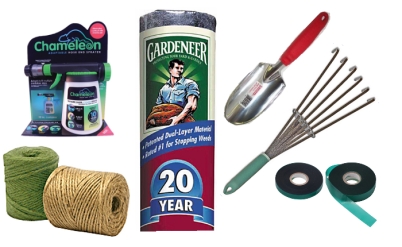 Other Great Tools and Garden Supplies
Besides some of the brands mentioned above, we carry other great tools like Corona hand tools, Lewis Tools, green tie tape for securing plants, garden twine, and garden kneelers. We also carry various sprayer applicators like the Chameleon hose-end applicator that make spraying insecticides easier. In addition, we stock the Gardeneer weed shield barrier. This high quality weed barrier is available in the 10 year and 20 year rated materials for long lasting weed control. To see all of the products we carry, come by and visit us.
Drip Irrigation
We carry drip irrigation products manufactured by Jain Irrigation. We love their innovative drip connectors that feature the power-loc technology enabling you to use the connectors with virtually any brand of 1/2" drip tubing. No more drip tubing coming apart because of different wall thicknesses. Also, the j-turbo drippers can be taken apart and cleaned saving money on having to buy and replace plugged drippers.